The Slippery Hill Boys - Hoedown party, Wedding party, Barn Dance - Staffordshire & Cheshire.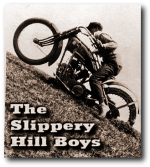 Forthcoming gigs
Home | Performances | Barn Dances | Gallery | Videos | Testimonials
The Slippery Hill Boys play performance gigs in pubs, at festivals and for private parties. In addition the band hosts regular acoustic sessions where other musicians are invited to play along. For barn dances an optional barn dance caller makes sure the dancing goes smoothly.
Please don't use this list as an indication of availability. If we have a gig listed on the date of your event, please contact us anyway as we list unconfirmed bookings and there may be cancellations.
All enquiries: 07985 425932 or email enqs@

grass

slipperyhill.co.uk

Cut the grass to email

or for a quotation please use our contact form