The Slippery Hill Boys - Hoedown party, Wedding party, Barn Dance - Staffordshire & Cheshire.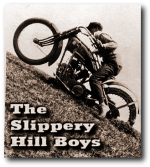 Testimonials
Home | Gigs | Performances | Barn Dances | Gallery | Videos
Whether it is a performance or a barn dance you can book The Slippery Hill Boys with confidence.

Take a look at some of the comments from our recent clients.
"Another (and more sober) thank you from Nev and I for the Slippery Hill Boys fantastic performance last night at our fund raising barn dance. We raised £1400, so we're absolutely chuffed! Like everyone else on the planet I write a blog, the latest post mentions the Slippery Hill Boys, if you'd like to see it go to http://discombobulateddel.blogspot.co.uk/2015/06/hot-cockles.html, I'm afraid you'll have to scroll down a bit to get to the relevant part. Anyway, thanks again for an absolutely brilliant evening. All the best "
Nev and Della
---
"Thank you for a great performance on Saturday. It was absolutely fantastic. ... You are really the best band to have at any barn dance. A lot of my London city friends and family have never been to anything like that before. And they remarked at how fantastic the line dancing was. One guest even said she that society could learn a lot from it because it really brought everyone together and dropped peoples inhibitions. "
Mary
---
"Just a quick note before we set off on honeymoon to thank you and the band so very much for playing at our Wedding on Saturday! I'm so glad we were able to catch you briefly to thank you in person, and hopefully you got a sense of how much we enjoyed the music. You were fantastic! We had a good idea that we would really enjoy your music before the Wedding from the videos we saw on your website, but it was brilliant to see how much the guests were enjoying it. So many of them came up to us and commented on how brilliant the music was, and it really set the tone for the rest of the day. I'm sure you noticed as well that your biggest new fan is our 15 month old nephew Oscar!!"
Laura and Daniel
---
"You'll be pleased to know that everyone, even the non dancers, really enjoyed last Saturday night. I've had universally good feed back. It was great fun, so thank you so much, and Sylvia was a great and intuitive caller. ... Good luck at your future gigs, and we'll certainly recommend you if anyone we know is looking for a band."
Quita
---
"Thank you very much for a wonderful show last night. Gill has had a marvellous birthday and was delighted with her party."
Sandy
---
"I forgot to say a MASSIVE thank you for providing the music on the 16th for my 50th, it was brilliant. I hope you had enough to eat and drink.
No problems recommending you for any do's at all. I will recommend you for functions at the club going forwards too.
Thank you again"
Peter
---
"We're currently on honeymoon and in Clarksdale, Mississippi!
We just wanted to say that you were all completely amazing and made our wedding. So many people have said how brilliant you were! We are so pleased and grateful that you made the long journey to Norfolk as we wouldn't have wanted anyone else to play at our wedding.
Please let us know if you are playing in London anytime soon as you have a heap of new fans that will come to see you!
Thanks again soooooo much!
Lots of love, "
Kate & Will
---
"Many thanks to you and the rest of the lads for a great night on Friday. You were brilliant and everyone said they enjoyed the night very much. "
Anthony
---
"I just wanted to say a massive thanks for the music and dancing you provided on Saturday. You were all fabulous and I can't begin to tell you how many positive things people had to say about the entertainment and what a lovely bunch of people you were - from my Dad to the light technician - everyone loved you all! My nieces had a fabulous time and I think they loved the attention you gave them; Sylvia was brilliant in her role and what's more it wasn't too complicated for all us novices. She was very approachable and gauged the mood perfectly. It was exactly what I had envisaged the evening to be like - so thanks a million. If you ever need someone to sing your praises to prospective clients - let me know, I'd jump at the chance!"
Mary and Hamish
---
"I have to send you a MASSIVE thank you from the bottom of my heart. You were all amazing last night. And everyone was commenting on how fantastic you were."
Claire
---
"Thank you so much, your guys were truly amazing and everyone commented on how brilliant you were. I can honestly say It was lovely to see those who don't normally dance get involved :). "
Michelle and Tom
---
"Had a fantastic night last night, you guys really made it special for us, thank you so much, you're all awesome!!"
Scott and Claire
---
"...a big thank you to all of your band and Sylvia for helping to make our midsummer bash so successful....I've had loads of lovely messages since Friday and many of them complimenting the music. And can you pencil us in for [next year]......I think we might have just started a tradition!!!"
Clare
---
"...thanks to you all for making it truly one of the best nights I've ever had!! I've had so many compliments about you guys and requests for your info so good luck for more bookings and CD sales! "
Cheryl
---
"...thank you for making Karens 60th birthday an evening to remember, everybody had such a good time. "
Graham and Karen
---
"We were very pleased with the way the evening turned out, in no small way thanks to the skill and attitude of The Slippery Hill Boys."
Howard
---
"I would just like to say how great you all were on Saturday, everybody had a great time and commented on you. I also wanted to apologise as I never got round to buying you all a drink as I planned, it was so hectic. Thank you for everything and I shall get the drinks in next time."
Hayley x
---
Thank you for playing at our wedding and making our evening so much fun. We loved it, and our guests had a great time! You gave us exactly the kind of atmosphere we hoped for, and the perfect ending to our perfect day."
Lawrence and Katy
---
"The Slippery Hills Boys are nothing short of awesome! We hired them for our wedding and they delivered the goods. I still get people who attended the evening comment on how amazing the band were. We loved the caller; we thought she was great and got the people up dancing....even some family members who make it a habit not to dance. You were all so lovely and friendly and made our special day little bit more amazing. Thank you all. We would recommend you to anyone, so much better than the usual boring DJ."
Gareth & Mary
---
"If you get the chance to see the Slippery Hill Boys, go see them, crackin band, really enjoyed them at the Penrhos Arms Whittington."
Barry Scott
---
"Thanks again for last night. You guys were amazing, everything we wanted, hope you guys had fun."
Sam & Jon
---
"Absolutely awesome, the music and style was absolutely perfect for the venue!!! Top lads!"
Nik
---
"I just wanted to say a massive thank you to the band and Sylvia for last night. I've had so many texts and calls from our guests saying how amazing the night was and that the band were brilliant. You really fitted in with the crowd and were really great friendly people. My mum was absolutely made up with the party and all the dancing, so thanks again for making it such a special evening!!I will be raving about you to everyone! Thanks again, "
Suzanne xx
---
"... listening to the Slippery Hill Boys, it gets better the more I listen to it. The arrangement on Hard Times is fantastic, the voices all work so well together, same on Sound of Loneliness. Gathering Speed is great, didn't realise it was one of your own compositions. £10 well spent."
Chris
---
...the pleasure really was all ours, we genuinely mean it when we say we had the best day ever! You and the band were absolutely incredible. Couldn't have asked for a more perfect fit for the day, you are a great bunch. We have had no-end of comments from guests as to how good you were and how much fun they had! Pretty much every single person said it was the best wedding they had ever been to! Which, for us, made all the hard work worthwhile. Thank you for playing your part in making this happen. ... Thank you for being so open and flexible, and completely understanding. I would not hesitate to book you all again."
Adrian
---
I am sorry it has taken so long to write but thank you so much for an amazing wedding. Everyone loved the evening and you were amazing."
Kristel
---
"Thanks for an absolutely brilliant night please do keep us informed if you are playing again in the area ... as it was all tremendous."
B & C
---
I'd just like to thank you on behalf of myself, Becky and all the guests at our wedding on Saturday night. The music was fantastic. Paul and Becky Sorry we left so early but we had to head back to Manchester. Just to let you know we thought you were all awesome last night, really like the 4 part harmonies. Honoured to have you play at our wedding. Thanks"
Phil
---
"So, was it a risk putting these 4 wonderful musicians on a festival line-up with an average crowd age of about 20, when their average age is, well, more than 20. Many thought so, but I was convinced I was right. Oh God, I love being right! HippyHaze had one of it's most amazing vibes of the whole weekend when these guys took to the stage and I can only thank you for lighting up the day! You were simply superb."
Rich
---
"Thanks for a great evening guys. You did an amazing job of getting nearly 300 young people dancing, the music was first class."
Julian
---
"Hands down, we had the BEST time we've ever had dancing at a reception last night at Bob and May's wedding! Thanks for making it such a great time. I'm going to keep my fingers crossed that you all make it to my side of the Atlantic so that I can shake a tail feather to your tunes again soon!"
Blades McKnight, North Carolina
---
"We had an absolutely amazing day that we will cherish always, and it was an absolute pleasure to meet you all. I've lost count of the number of people who have said how fantastic you were, and what an amazing evening they had! Thanks again for making it so special, and we look forward to seeing you again! All the best"
Tom & Lucy
---
"You are wonderful, friendly, obliging people. You got everybody up to dance from the young to the old. A fabulous night was had by all and they can't wait for another night like it.!!!!"
Elaine
---
All enquiries: 07985 425932 or email enqs@

grass

slipperyhill.co.uk

Cut the grass to email

or for a quotation please use our contact form