The Slippery Hill Boys - Hoedown party, Wedding party, Barn Dance - Staffordshire & Cheshire.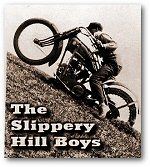 Fund Raising
Home | Gigs | Performances | Barn Dances | Gallery | Videos
Here are some of the things we have learned while playing at many barn dances to help you raise the maximum amount of money for your charity. They are in no particular order
Like all bands, Fridays and Saturdays are our busiest nights. For a better deal consider a midweek event or a tea dance on a Sunday. It doesn't matter if it's work next day if you finish reasonably early.
Rodeo bulls and other games are great fun but are not a good idea in conjunction with a barn dance. It's difficult to run these things and a barn dance at the same time and so you have to have them in separate places. That splits up the audience. Ideally we want everyone in the same space, both physically and mentally. Also if they have to pay for the ride, they will have less for the collecting bucket. Between dancing, eating and drinking, they will have plenty to do. Remember, keep it simple.
Stress that it is a barn DANCE so that people know exactly what they are letting themselves in for. Of course the caller will explain all the moves and so no experience is necessary. But we want people who are willing to give it a go and not just stand around.
There are often a lot of children at these events, which is great. However if they are running round while dancing is going on there is a risk they could get hurt so you might like to consider a baled off children's area perhaps with a few toys for the little ones. However, our callers are used to dealing with children so don't worry too much.
Outside catering can be expensive. You might like to look at lower cost alternatives, such as a pie and pea supper, or get someone to whip up a large pan of chilli with rice. Organise a cake competition or ask volunteers to bring cakes/pies etc for dessert. The less it costs, the more you raise.
Some events have an outside bar, some just get people to bring their own booze. The way we see it, bringing your own booze is a cheaper option for families, leaving them with more money to donate to charity.
We have stupid weather - it can be cold at any time of year. If you are holding the event in a barn or marquee and have any safe way of heating the space that would be great. Also think about lighting. It doesn't need to be floodlit but some light on the dance floor is a good idea.
Get volunteers to sell tickets. It's easier for 10 people to sell 10 tickets each than for one person to sell 100.
If you have business contacts see if you can sell blocks of tickets to companies. Tell 'em its good for networking.
Ask people to donate items and run a raffle, or if the donated items are good enough, get some local character to run an auction.
Fancy dress is good, and easy. Almost everyone has a check shirt and a pair of jeans and it's practical wear for a barn dance. Maybe offer a prize for the best one. Some also offer a prize for the best dancer or couple of dancers. There are usually one or two who stand out.
Don't undersell the band. We've done events where the most mention we got on posters was 'Live Music'. Big up the event so that people feel they are getting real value for money. We're a nationally acclaimed bluegrass band and have played for Chevrolet at The National Motoring Museum and had a sellout concert at the prestigious arts venue Kings Place, in London. More recently we have played for major corporate clients such as Nissan and the pharmaceutical company, Bayer. You'll find publicity photographs at the bottom of our website. We strongly recommend getting posters and tickets done by a professional (at a cut down rate, of course!)
Try to get publicity in local press, radio etc, especially for anyone who supports you. If people are giving something to support your cause it's only fair they get some recognition.
We will have a supply of our CD 'Gathering Speed' available for sale. (it's on Amazon and iTunes) Each CD is professionally produced, comes in a skinny wrapped jewel case and costs £10. As a special offer for fund raisers, for each one sold at the event we will donate £5 to the cause.
All enquiries: 07985 425932 or email enqs@

grass

slipperyhill.co.uk

Cut the grass to email

or for a quotation please use our contact form