The Slippery Hill Boys - Hoedown party, Wedding party, Barn Dance - Staffordshire & Cheshire.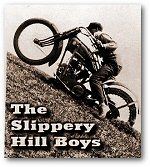 The Slippery Hill Boys Chilli Recipe
Home | Gigs | Performances | Barn Dances | Gallery | Videos
Here is a fantastic way of catering for your guests without breaking the bank. Especially good for fund raisers
Ingredients

Method

Chilli con Carne for 120 people

• Minced beef (lean) 25 lbs

• Onions 18 lbs

• Kidney beans 18 cans

• Chopped tomatoes 15 cans

• Green/red peppers 8 lbs

• Tomato paste 2 lbs

• Chilli powder

• Garlic 1 head

Chilli sin carne for 20 vegetarians

• Kidney beans 5 cans

• Onions 3 lbs

• Chopped Tomatoes 3 cans

• Celery 2 heads

• Peppers 2 lbs

• Mushrooms 2 lbs

• Tomato paste 1lb

• Chilli powder

• Garlic 1 head

---

Portion size: 10 oz

Plus baked potatoes, rice.
Say; 75 spuds, 12 lbs (uncooked weight) rice

---

Total cost per meal:
Approx £0.94 per person

Chilli con Carne (You're going to need some catering size pans!)

Fry off the chopped onions and peppers until the onions are soft and beginning to colour. Any oil will do, budget stuff is fine, but plain olive oil works really well.
Have a beer.
Add the garlic (to taste, I like lots), cook for a couple of minutes
Finish your beer and look for another one.
Add the beef and cook, stirring well, until the meat is coloured through (not browned)
Add the tomatoes and kidney beans and stir well. Add chilli powder to taste. (Note; go carefully here; you can always add more later, and not all chilli powder is the same!) I look to achieve a Grade 3 chilli, which causes bowel complications but stops short of brain damage. Turn the heat down to low, and simmer until cooked through. Stir frequently to avoid sticking and burning on the bottom of the pan.
Have a beer, you need to keep your strength up.
Taste the dish; tinned tomatoes lack sweetness at times; if so, throw in a whole bottle of cheap tomato ketchup (even pro chefs do this, so don't feel guilty). Season well with salt and ground black pepper (you'll need a lot more than you think for this quantity!). If you want a smoky flavour, use barbecue sauce instead of the ketchup.
Have a beer to refresh your palate after all this tasting.
When the dish is cooked through, add the tomato puree and stir well. Simmer for a few minutes, and you are ready to serve. A nice touch is to stir in some coriander paste (cilantro in Texas). Get this from Asian food stores, but not absolutely necessary. Send a member of staff to the shop for more beer.

Chilli sin Carne (Chilli without meat)

Just the same as above, but put the halved mushrooms in instead of the beef. Variations; aubergines and courgettes work well, but add cost. Use three or four different sorts of beans (borlotti, haricot, chick peas etc) to give a variety of tastes and textures. The veggy version is really tasty.
All enquiries: 07985 425932 or email enqs@

grass

slipperyhill.co.uk

Cut the grass to email

or for a quotation please use our contact form